Wakefield is 100% percent confident of what is inside the box. There is some great biochar that we hope everyone soon learns about and wants to use in all of their plantings. We also want to make using biochar a little bit easier. It isn't easy to carry heavy bags of biochar and soil around. It isn't fun to deal with floppy plastic bags. It doesn't feel good to know that plastic bag is about as far from organic as you can get — although it can be recycled.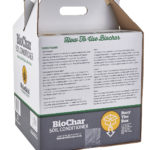 So, we changed things. We made biochar a little easier and a little more fun. Wakefield Agricultural Carbon officially presents the new 100% recycled material corrugated box with built in handle. It's easy to store because the handle folds back down. It's easy to carry around the yard with the spiffy handle that is a part of the box. And, when all your biochar is applied you can tear that box apart and put it into your compost pile.
To quote the classic movie Tin Cup, "Winner. Winner. Chicken Dinner!"
Wakefield wants the entire experience with biochar to be great. And, switching to this cardboard box is just one more way we hope you enjoy using biochar. We don't need to tell you but these boxes are A LOT more expensive than a plastic bag. This isn't an issue of profits… it's a commitment to better soil, better gardens and a better world.