Premium Compost and Biochar Blend – Bulk
A purely organic mix of OMRI-listed compost made from wood feedstock, mycorrhizal fungi, and Wakefield Premium Biochar combined to provide an instant punch of life to your soil and plantings. The primary objective of the Wakefield HERO biochar blend is to give your soil back the ingredients it needs for a healthy ecosystem of microorganisms and vital nutrients. Organic turf management options can be successful for your landscaping projects. By using biochar, the soil's health is allowed to stand the test of time by giving the good bacteria, microorganisms and water a place to stay. No chemicals are needed. This combination of nutrients and Wakefield Premium Biochar is perfect for your turf to grow.
This biochar and compost blend is great for:
Reclaiming farmland that has lost its organic potency
Seeding a new lawn – especially with new construction
Landscaping
Golf course turf
Sports turf fields – i.e. softball, baseball, soccer, football
Rooftop gardens
Commercial planting in pots
Anywhere you need a healthy improvement in your soil!
Find more ideas on how to use biochar.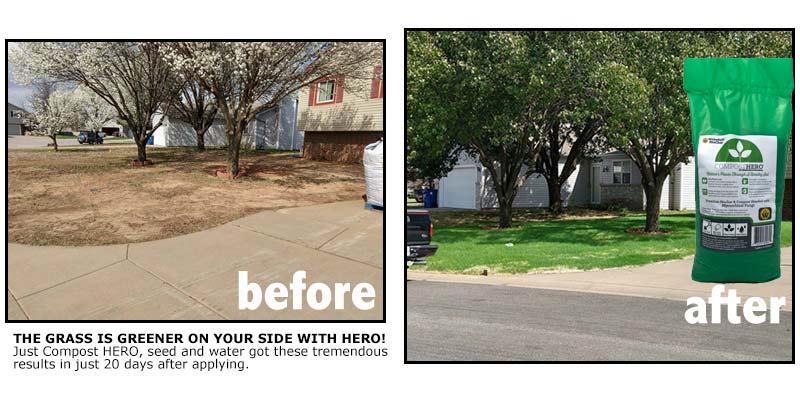 Purchasing Information
IMPORTANT FREIGHT COST INFORMATION: This item is a larger bulk item that requires freight shipping services. If you complete your order through this website a Wakefield representative will contact you to confirm all shipping requirements. The actual shipping rate may vary pending confirmation of delivery location and special delivery requirements. A Wakefield representative will contact you if additional fees are required before shipping.
Contact a Wakefield representative for more detail.
A typical trailer load is 24 pallets with each pallet containing one supersack of Wakefield HERO biochar blend.
What Is In The Wakefield HERO Biochar Blend
Organic OMRI Listed screened compost
20% by volume of OMRI Listed Wakefield Premium Biochar
Mycorrhizal fungi
Not included: seeds, sun and

water
Application Rate
For topical application use a compost or manure spreader to cover 400 sq/ft per cubic foot. A cubic foot of mix weighs ~30lbs.
Or, to mix into existing soil consider apply up to 1/2″ of HERO biochar blend into the top 4″ of top soil.