Use A Better Compost. Help Create A Better World.
Compost HERO biochar blend is made with premium Wakefield BioChar, organic compost and mycorrhizal fungi to create a superior soil conditioner. The recipe starts with our 20% premium biochar. Wakefield BioChar provides an organic answer to reducing the need for chemical fertilizers and naturally increases microbial activity in the soil. This is a long-term solution that will benefit the soil for 100's of years. All you need to do is mix it into existing soil to get started. Then the HERO line of soil amendments adds a premium, organic compost and mycorrhizal fungi to ramp up the microbial activity, water retention and your soil's ability to feed your plants. With mycorrhizal fungi you are also reducing the environmental stresses on your plants.
Healthier Soil = Healthier Plants
Encourages micro-organisms to thrive in your soil. Increases nitrogen and other important nutrients.
Water Retention
Superior water retention with biochar and compost
Absorbs Nitrogen
Increases microbial activity with mycorrhizal fungi
Reduces the need for chemical fertilizers
Neutralizes soil pH
Maximizes crop yield
Improves seed germination
Long-lasting love for your soil
Biochar benefits the soil for 100's of years
The Biochar Bonus! Biochar helps reduce our impact on global warming.
Biochar returns carbon back to the soil that would've been released as greenhouse gases. This process is called carbon sequestration.
The compost in the HERO blend is aged. This means that the feedstock has gone through a 4- to 6-month thermic windrow process. The temperatures are documented weekly so that the material reaches between 130 and 160 degrees. This allows active fungi and bacteria to push the decomposition process. After the windrows have matured, the material is screened and rests an additional 30-day to ensure matured, cured compost. This avoids any risk of "hot" or unfinished compost.
How To Use Wakefield Compost HERO
Wakefield is keeping it simple. Just mix Compost HERO Biochar Blend into ~10% by volume of your soil. Add seeds or starter plants and some water. Then tend and care for your garden as you normally would.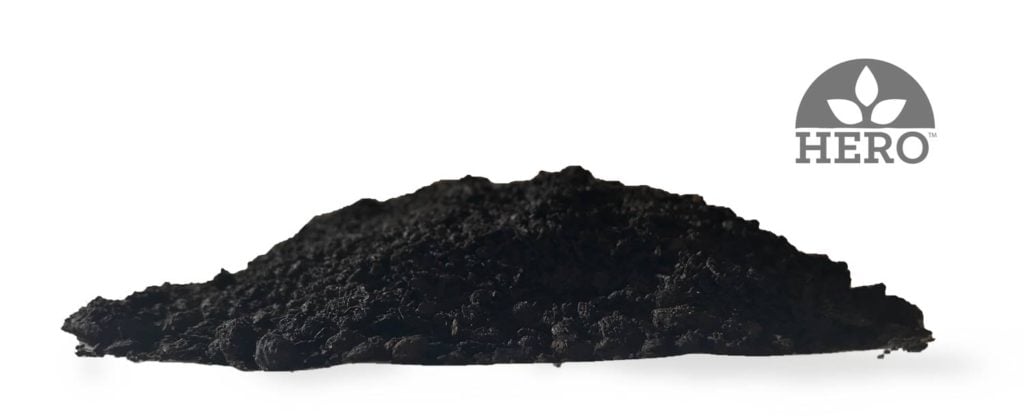 How can you use a 1 cubic foot bag of Wakefield Compost HERO?
One bag of blended biochar is best for 32 sq/ft of gardening mixed into the top 4″-6″ deep. A good guideline is to make the biochar equal ~10% of the total soil content in the area of application. Consider using a bag in any of these projects:
Raised bed gardens
Flower beds and bushes around the house
Patching the lawn that needs reseeding
Apply to the root area of a tree that you want to plant in the yard
Hemp and cannabis plants (where allowed by law)
Add to an existing compost pile to speed up the composting process and reduce odors. Biochar is an amazing filter!
And, here's the legal stuff…
Disclaimer and Limited Liability
This product is intended only as a consumer product. No warranty or representation is made, expressed or implied, concerning the results to be obtained from the use of this product if not used in accordance with directions or established safe practices. The exclusive remedy of the user or buyer, and the limit of liability of Wakefield Agricultural Carbon LLC or its affiliates, for any losses, damages or injuries resulting from the use or handling of this product shall be the refund of the purchase price of the product.